Alexander Reyes Rowson
Name:
Home address:
Family:
Alexander does not have Family in Minnesota, his parents and brother live in San Francisco, CA:
Father: John Rowson, lives at 463 Fair Oaks St, San Francisco, CA 94110
Pseudonyms:
"Anton Rays" for facebook and "political" work
"Anthony Reyes" for photography
Email:
Phone numbers:
415-987-9401
Vehicle:
Silver Honda Civic with tinted windows and Idaho license plate: 1L D2242 (expired tabs as of writing this)
Twitter:
Facebook:
Likes to play classical guitar and produces electronic music.
Goes to Church at Latter Day Saints Institute of Religion in Dinkytown, 1205 University Ave SE, Minneapolis, MN 55414, attends the service on Sundays at 10am
He grew up in San Francisco and moved to Idaho, where he lived for 5 years to attended the University of Idaho and graduating with a degree in engineering. Before moving to Minnesota he briefly lived in Boston and then Detroit. In November 2016, shortly before the election he moved to Burnsville, MN
---
Alexander and other members of Alt Right MN organized a white lives matter rally at the Minneapolis Institute of Art (MIA) on February 25th, 2017. The rally was prevented from happening by an antifascist counter demonstration. When Alexander arrived at the MIA he was confronted by antifascists. In response, Alexander performed the traditional Nazi salute and shouted "Heil Trump".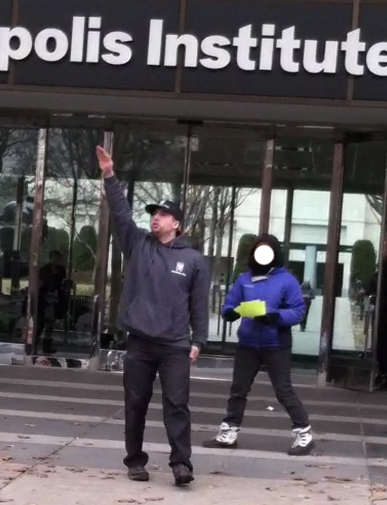 Alexander is currently involved in organizing "President Trump's First 100 Days of Triumphs" rally at the Minnesota State Capital on May 6th, 2017 at 10am. There is also a counter-demostration at the same time and same place. The rally will feature speaker Simon Roche, a member of the South African white separtist group the Suidlanders. The group believes that an eminent #WhiteGenocide in South Africa necessitates a decentralized defense and separation of the white population from the countries black majority. The Suidlanders are currently touring the United States, seeking support and trying to raise funds for, what they believe is an upcoming "race war" in South Africa. Along with Simon Roche , Alexander Rowson and other Alt Right MN and Identity Evropa members are scheduled to speak at the event on May 6th, hoping to spread their message of hate.
---
Please distribute these flyers with this nazi scum's info: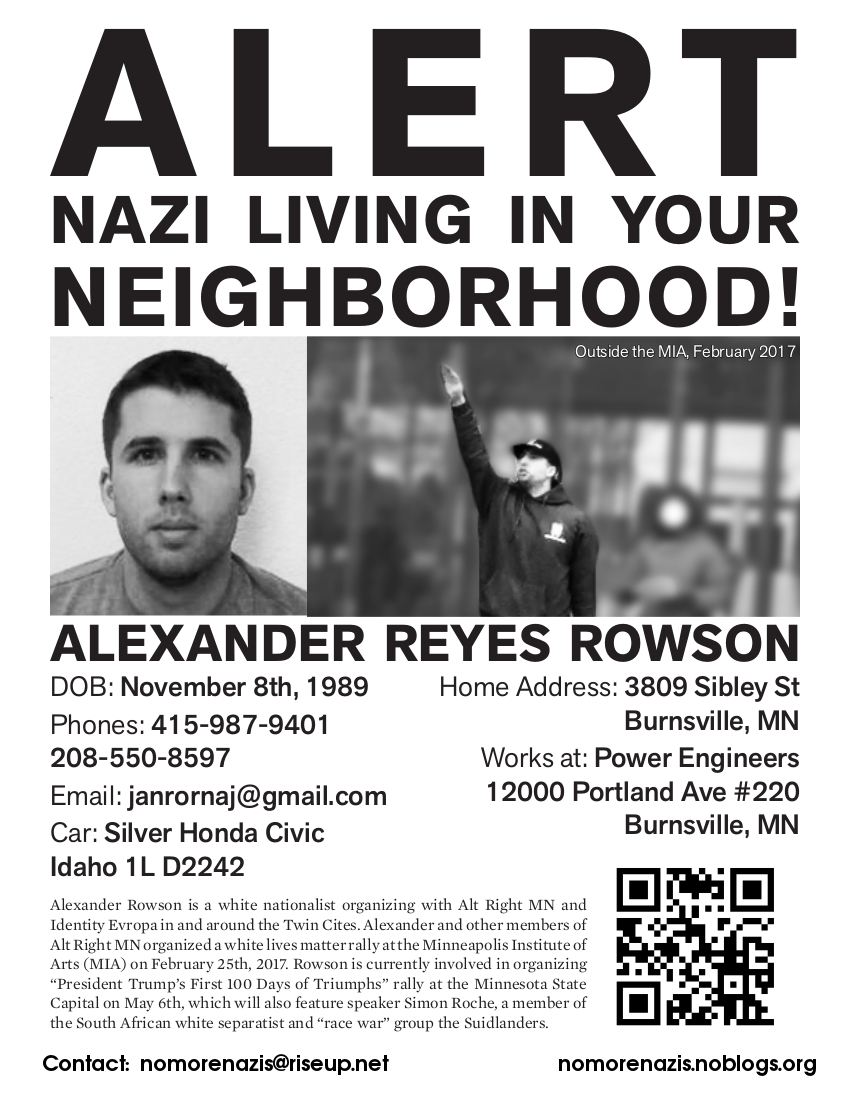 ---
Contact us if you have any more information: